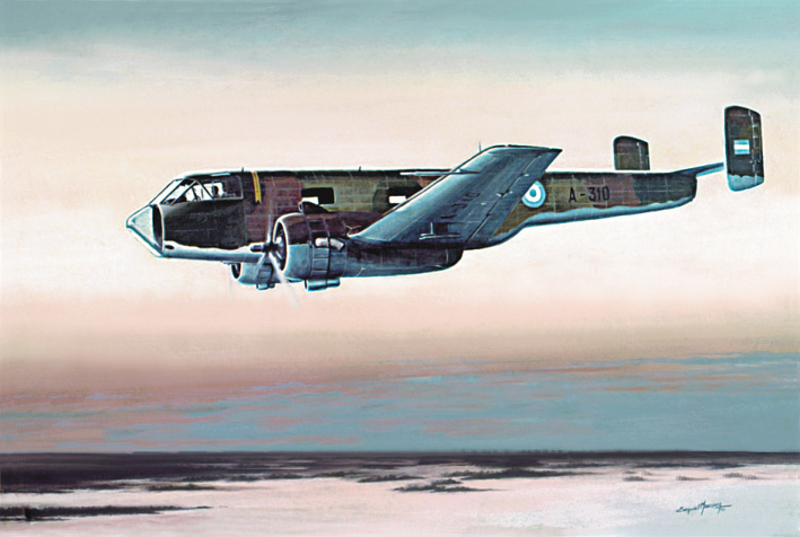 IA – 35 HUANQUERO twin engined, multi seat, low wing plane constructed in aluminum and with tricycle landing gear. Multi role plane that was usesd to train pilots, copilots, navigators, bomb aimers, gunners, photographers and rescue team members. It was bomber, light transport for 3 crew and 7 passengers, ambulance and photo plane. It was even used to fly the target drogue for the air gunners to practice. It was designed by Kurt Tank and after 1955 other teams continued the development. It flew for the first time in 1953. It was named after the flying beetle due to the noise of the engines.
Characteritics and Performance:
Wingspan 19.60 m Lenght 13.98 m
Height 4.0m Weight (empty) 3.500 kg
Cargo 2.300 kg
Total weight 5.800 kg
Wing load 138 kg/m2
Max speed 380 km/h
Cruise speed 300 km/h
Landing speed 125 km/h
Ceiling 7.000m
Endurance 1.250km
Engines: 2x650hp 9 cil radial
Type: I.Ae.R19A "El Indio" (Argentine design)
Propelers: 3 bladed Rotol fixed pitch
Paint scheme: overall aluminum, White roof, Green tops and light blue undersides.